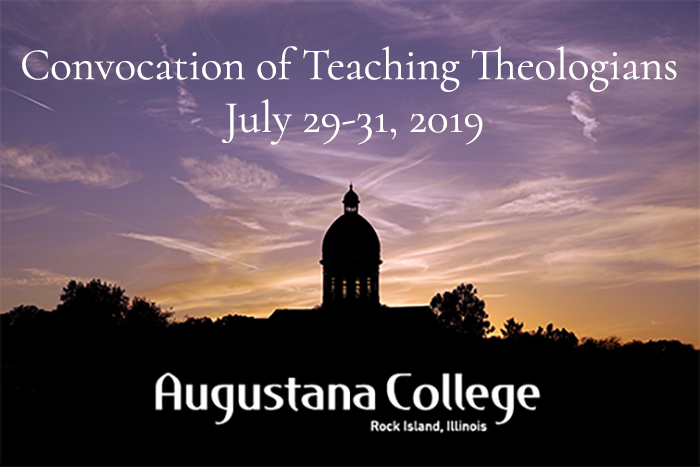 The 2019 Convocation of Teaching Theologians will take place July 29-31, 2019 at Augustana College in Rock Island, Illinois.
The theme will be: Unearned Privilege as Cheap Grace
This year's theme—"Unearned Privilege as Cheap Grace"—borrows from Dietrich Bonhoeffer and recent work on white privilege and contemporary liberation movements. Bonhoeffer opened Discipleship with the stark but subtle distinction between costly grace and cheap grace. Some since Martin Luther's proclamation of free grace have wanted to understand God's grace a-politically—that is, as God's unmerited regard for an individual regardless of the social structures that otherwise shape her body and the body politic. Critiques of cheap grace (including critiques by Luther!) ultimately target "grace" as an ideological justification of the status quo. Perhaps then our contemporary word for "cheap grace" is privilege—white privilege, male privilege, straight/cis-gender privilege, able-bodied privilege, North American privilege, Christian privilege. Keynote speakers and workshop leaders will help  all participants think through the critical distinction between God's unmerited grace and America's unearned privilege in its many forms in order that the church more faithfully embody Jesus's calling to discipleship, to justice, and to become the beloved community.
Registration for this event is now open on a first-come, first-serve basis. Click the link to register today. Payment of the $150 Registration Fee will take place on site at the event.
About The Association of Teaching Theologians
The Association of Teaching Theologians is a ministry of the Evangelical Lutheran Church in America (ELCA) and the Evangelical Lutheran Church in Canada (ELCIC). Its members are teaching theologians serving at ELCA Colleges, Universities, and Seminaries as well as ELCA/ELCIC members serving as teaching theologians at other institutions of higher education and affiliated institutions.
To apply for membership or to update your membership records, please contact Timothy Snyder, Membership Secretary, at tsnyder@wartburgseminary.edu